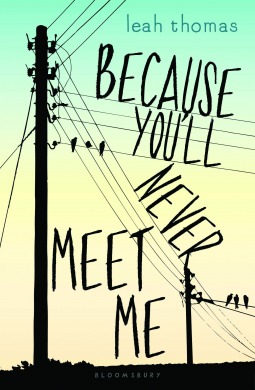 Ollie is a boy who cannot tolerate any electricity.  I makes him so ill he has seizures.  Moritz is a child born without eyes but can use echolocation to see, much like Daredevil.  The boys have never meet in person but Ollie's doctor set him up with Moritz as pen pals to see if they could be a source of comfort for each other since they have peculiarities they set them apart form society.  The two share their lives which are unique to say the least.  Ollie lives out in the woods in an electric free cabin with his mom.  Their only visitor is Ollie's doctor and a girl whose uncle lives nearby.  Moritz lives with his adoptive father, goes to school and has to deal with a bully. He can "see" in great detail with his ears.  Both have secrets they want answered about their pasts and what may make them superhuman.  Because of Moritz's pacemaker, the two can never meet.  This book is unique and the characters are fascinatingly complex.  It is a mystery that slowly reveals how the boy's stories are intertwined. It is fascinating how they interact with each other and those around them.  It is told in alternating voices of both Ollie and Mortiz in their letters to each other.  I think because of the unique nature of the boys, readers who loved the Miss Peregrine's Home For Peculiar Children will enjoy this.
Some ideas for discussing with teens:
Discuss how the personalities of Ollie and Moritz are different.  How are they alike?
Discuss what it would be like to have their unique attributes.  Which do you think would be more difficult for you?
Discuss having pen pals.  Have you ever had one?
Discuss the poop analogy when Ollie says he and Moritz are "not the poop" on page 290.
Discuss when Moritz talks of being haunted by those who came before him on page 246.
Discuss Ollie's relationship with Liz.
Discuss Moritz's relationships with Owen and Fieke.
Talk about what "eyes are windows to the soul" means for Moritz.
What do you think of the laboratory where Moritz lived?  What about his mother?  Did she have a right to do what she did?
Discuss what happened with Lenz.  Did Mortiz have a right to do what he did?
Discuss how Moritz blames himself for what happened to Ollie.
Discuss what happens when Mortiz goes back to the laboratory.